Winter hiking in Lech Zürs
Leave your tracks in the snow while winter hiking on the Arlberg
Hiking trails through the winter landscape
Snow crunches softly underneath your feet as your footprints mark the path you have already taken. Full of concentration, your gaze is focused on what lies ahead: mountains, sun, snow and a picturesque hiking trail that will take you deeper into the magnificent winter landscape.
Daydream beneath the snow-covered trees
While winter hiking, explore the snowy landscape around Lech Zürs on specially prepared trails: small paths or groomed winter hiking trails lead over steep mountain slopes, through snowy forests, or along the partially frozen Lech river. In between the mountains around Lech Zürs am Arlberg, there is a 40-km well-groomed network of paths for winter hiking at your disposal.
Everywhere you look, there are inviting places, such as rustic inns and cosy sun terraces, where you can relax. With coffee and cake, a hearty snack, or a calorie-free option, take a breather and let your eyes wander.
The Sonnenabo ticket: an easy way to gain altitude
Even if skiing isn't on the agenda, you can still experience the mountains. For those looking for an uncomplicated way to get to the top, the Arlberg offers the reduced-price "Sonnenabo" weekly ticket for cable car ascents and descents. Once up high, take advantage of winter hiking trails without a tiring uphill climb or simply ascend to bask in the sun and enjoy the magnificent views.
The price for the "Sonnenabo" weekly ticket is as follows:
Euro 155,00 for adults
Euro 93,00 for children
Snowshoe hiking - get some distance from everyday life
Snowshoe hiking is the ideal way to relax and recentre with pristine nature as far as the eye can see plus clear, fresh mountain air and even, rhythmic movement. No prior experience necessary. If you would like to try snowshoeing, renting the equipment on site is easy. The Lech Zürs information centre has all the information you need. We highly recommend a guided hike with an expert who will show you the most beautiful routes to the most amazing places in Lech Zürs.
Everything is dressed in white
Hiking in winter on the Arlberg is an intense experience: fresh snow beneath your shoes, large snowflakes dancing through the air, the silence during a snowfall when the snow dampens the sound and only your own steps can be heard in the snow. In addition to classic winter sports experiences in the mountains, activities in the valley such as cross-country skiing and snowshoe hiking are equally as popular in Lech and Zürs.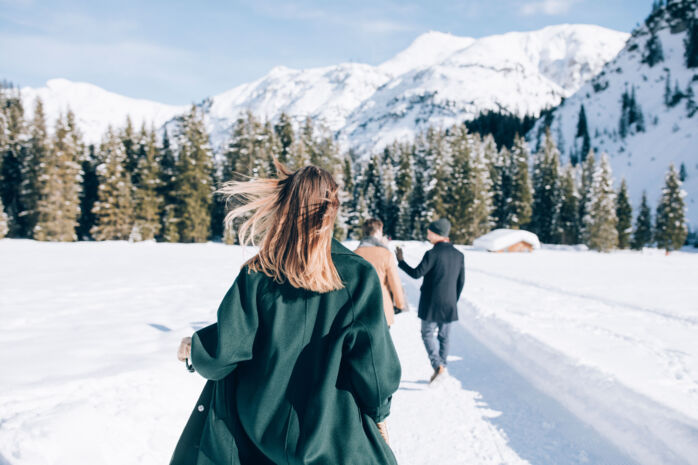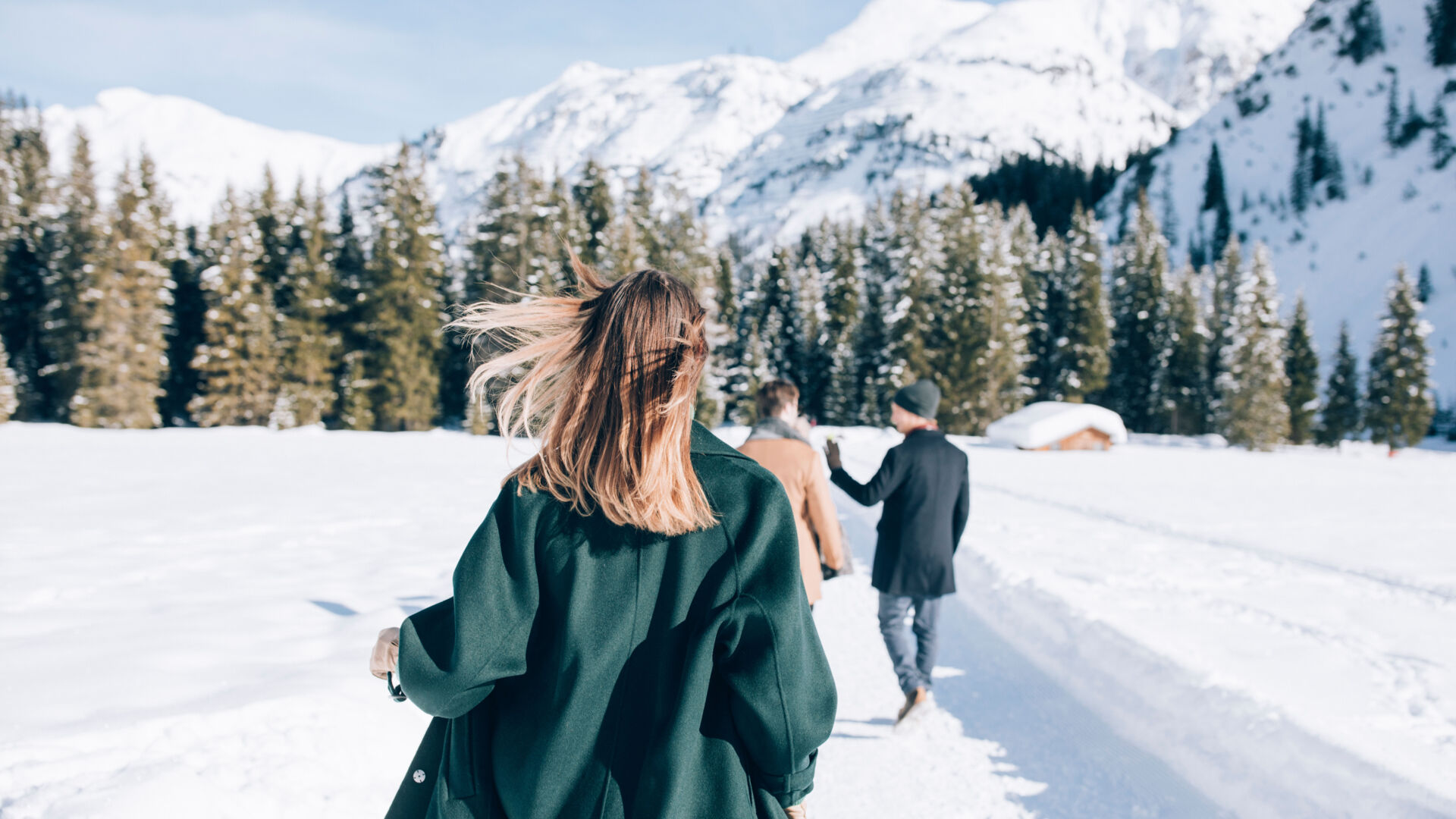 Gain new perspectives while winter hiking in Lech Zürs
Many of our regular guests return to Lech Zürs year after year with the aim of getting to know the region even better. Snowshoe hiking in particular offers even die-hard Arlberg connoisseurs completely new, unimagined perspectives of an otherwise familiar area. From the comfort of your hotel in Lech or Zürs, the starting points of many different winter hiking routes are accessible on foot or by ski bus. Choose a longer or shorter route, depending on your preference. Our hiking map provides you with a selection of groomed winter hiking trails featuring information on altitude, distance and duration. Routes can also be combined with each other. For those keen on a shorter excursion, simply head back down at the appropriate opportunity. Do whatever feels good!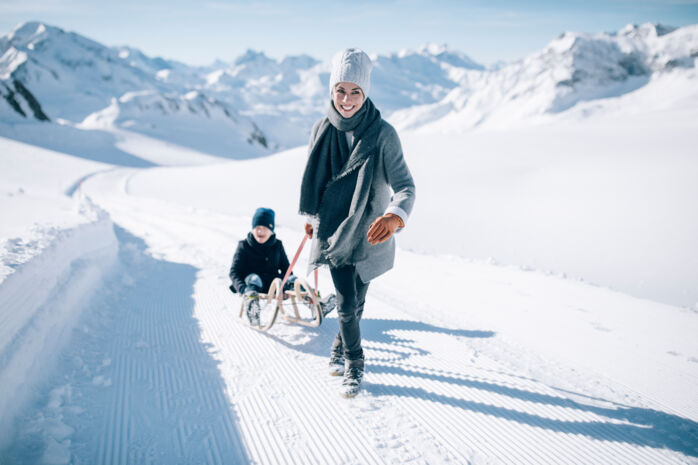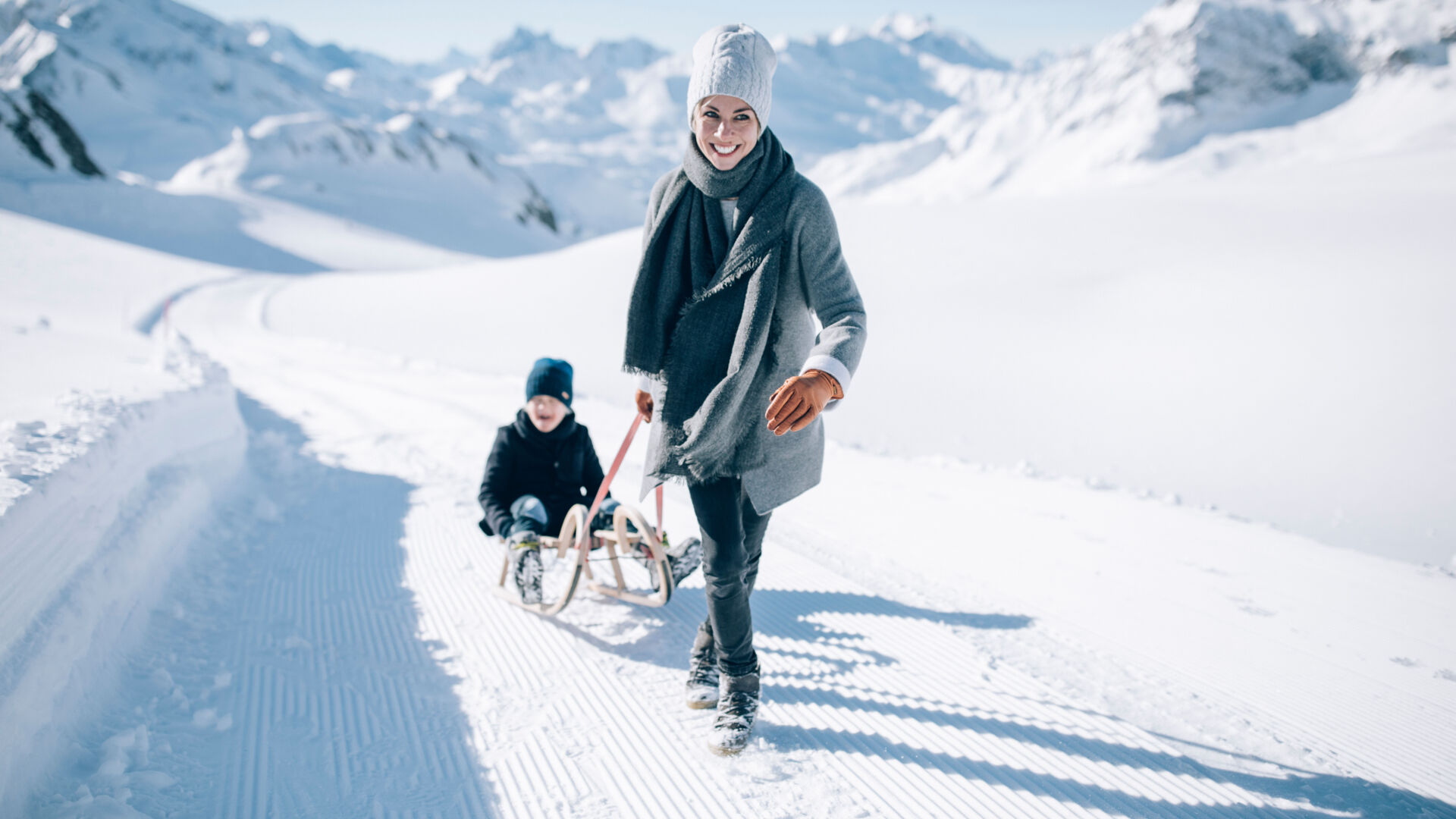 The right equipment for winter hiking
Which shoes do I need for hiking in winter?
On our groomed winter hiking trails, we recommend sure-footed hiking boots or winter boots. If you're keen to hike through the fresh snow, you should definitely wear snowshoes, which will allow you to more easily move through the powder snow and protect your feet from getting wet.
What other equipment do I need?
We recommend a wind- and waterproof jacket as well as waterproof ski pants that will allow you to move freely. Gloves and a beanie are also essential. When the weather is fine, don't forget your sunglasses - snow in combination with sunshine can be very bright.
When is the best time for winter hiking?
Once there's snow, the timing is perfect. Within a short time, the hiking trails are groomed and ready for exploration.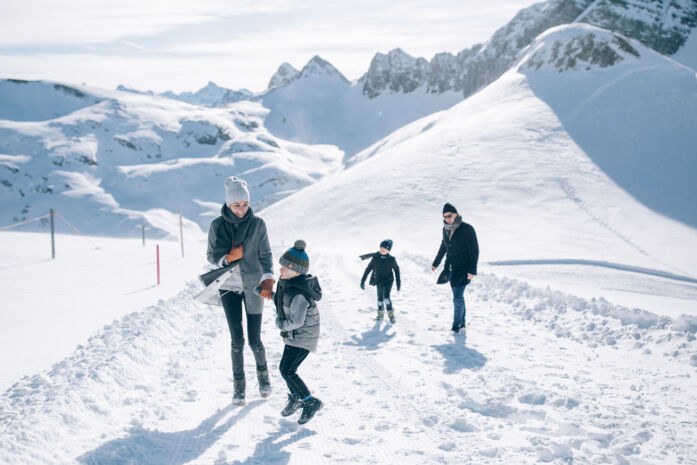 You can find out which winter hiking trails are open around Lech Zürs am Arlberg by checking out the "Winter Delights" brochure.
Winter hiking trails in Lech Zürs
Other winter sports activities