Dorfhaus. Kulturhaus. Lech.
Construction stages
Preview Summer 2023
Wooden façade completion
Interior works
Building services commissioning
Preparations for technical commissioning
Stage 4: Start of dry construction work and first fix
Construction began in April 2022. The roof seals including insulation plus the façade (windows and glazing) are being installed. The façade scaffolding will be dismantled at the end of September 2022. The ground surfaces adjacent to the buildings will be paved ready for winter operations. The dry construction work has started and the building services (heating, ventilation, electrics) are starting the first fix. Finishes and painting work are being carried out in the underground car parks and basements. Steel doors are being installed, the ground floor façade is also to be laid in. The heating should be operational in the building from 11/2022. The dismantling of the construction site equipment for winter operations will take place from November 2022.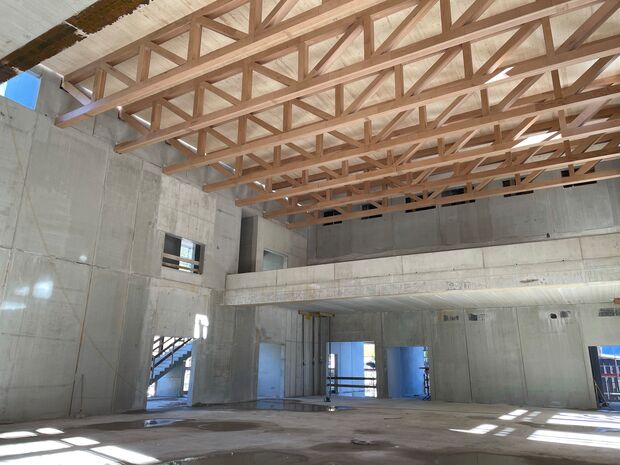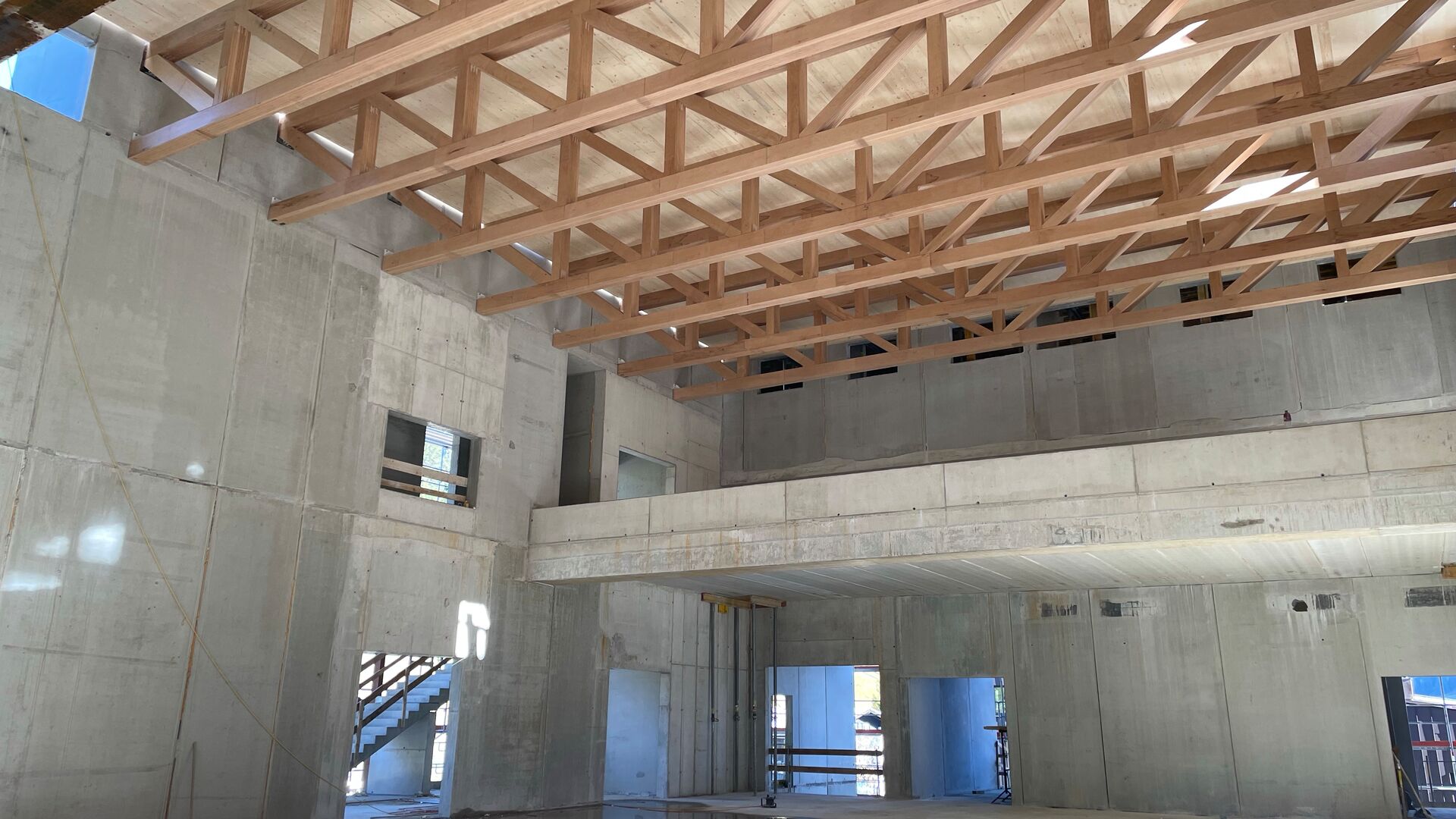 Stage 3: Completion of basements and structural work
Stage 3 construction works began in spring 2021. The basements and structural work for both buildings were completed. The wooden ceiling structure (beech) was erected, meaning the construction cranes could be dismantled. The (emergency) roof seals were installed, which meant the topping-out ceremony could be held on 5 November. The construction site equipment was dismantled for the 21/22 winter operations with the building yard team taking care of the winter monitoring.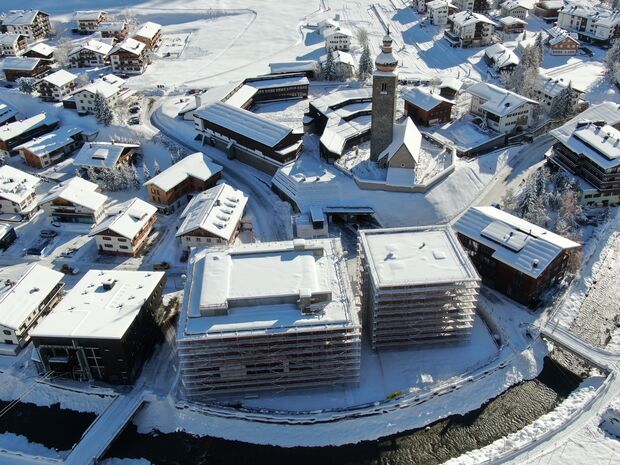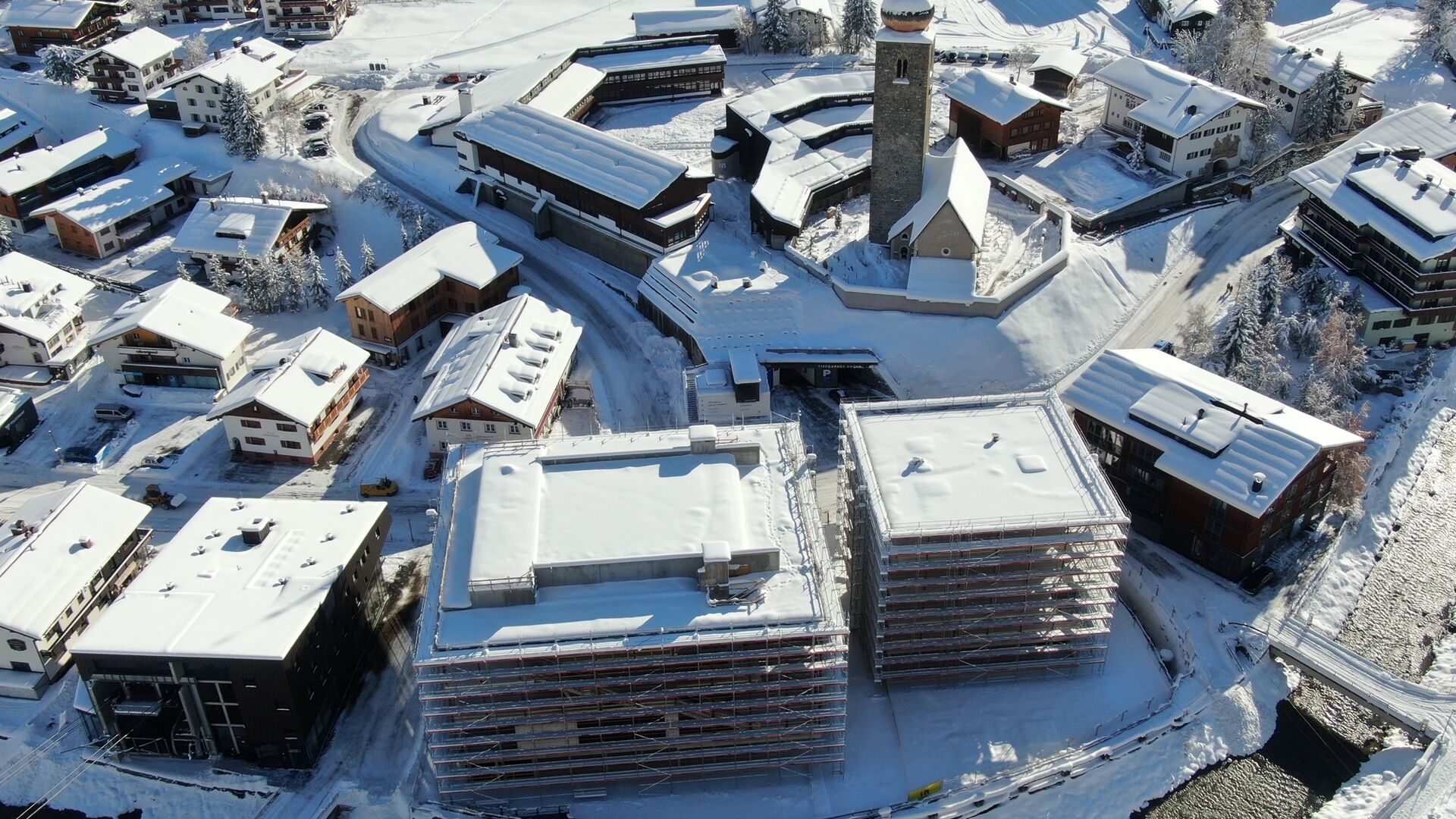 Stage 2: Construction of the two-storey underground car park, securing the construction pit
Stage 2 construction works began in mid-April 2020. This includes the construction of a two-storey underground car park connected to the access road to the Anger underground car park built as part of stage 1 last summer, plus the preparatory work for the underground connection to the Oberlech cable car. Comprehensive construction pit securing is also integrated into this stage.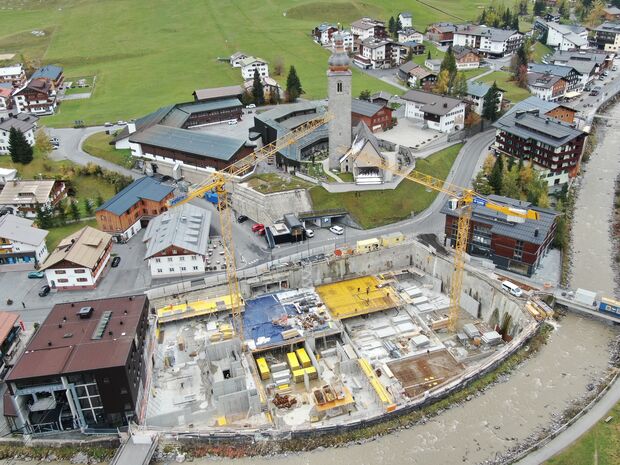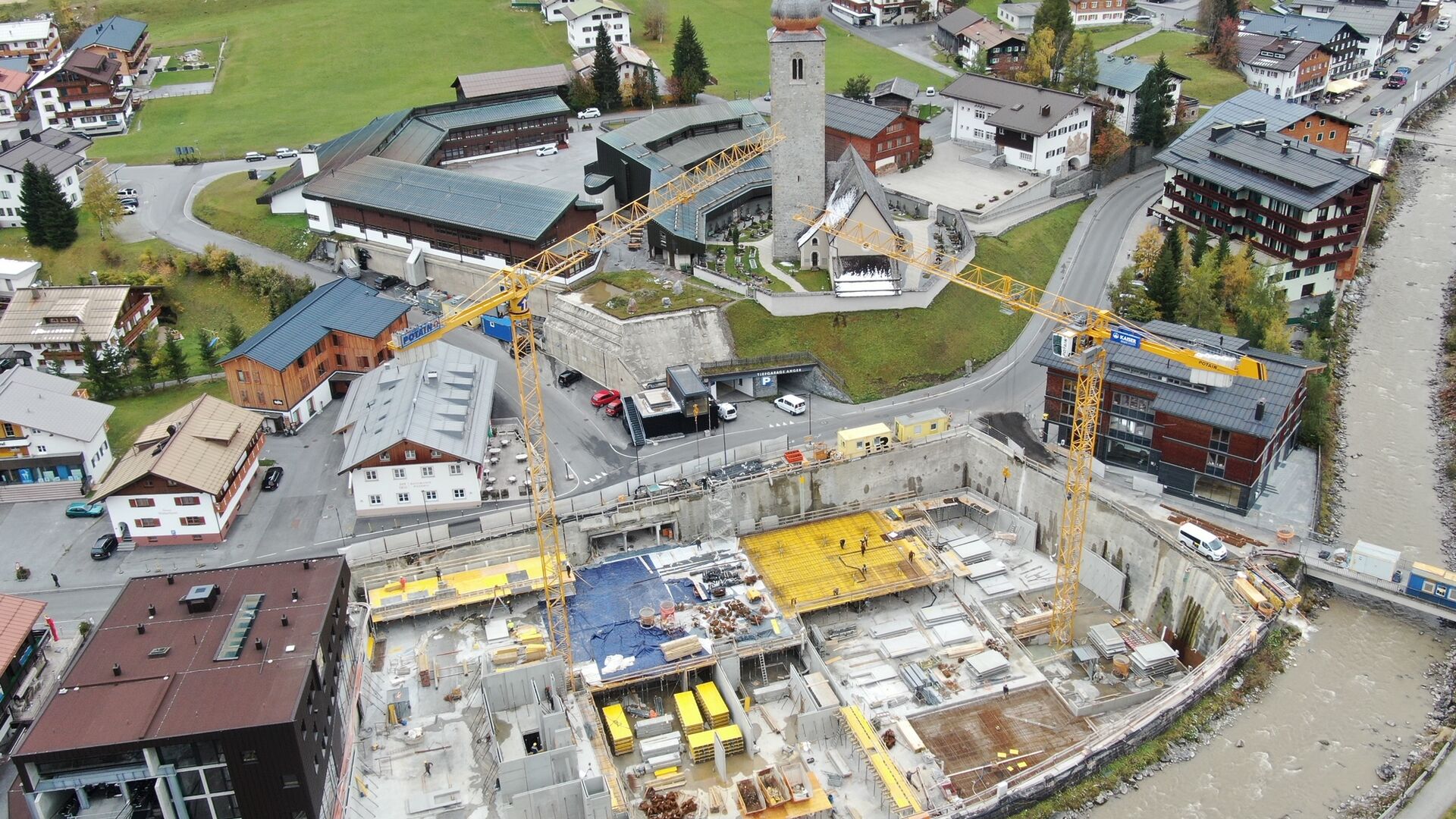 Stage 1: Access tunnel, demolition
Stage 1 construction works began on 19 April 2019. These included the construction of an access tunnel to the Anger underground car park, securing the construction pit for this tunnel, plus demolishing and disposing of the materials of the two existing post office and post garage buildings.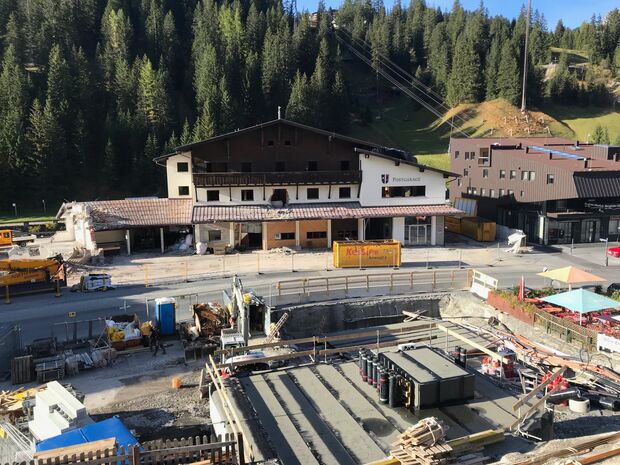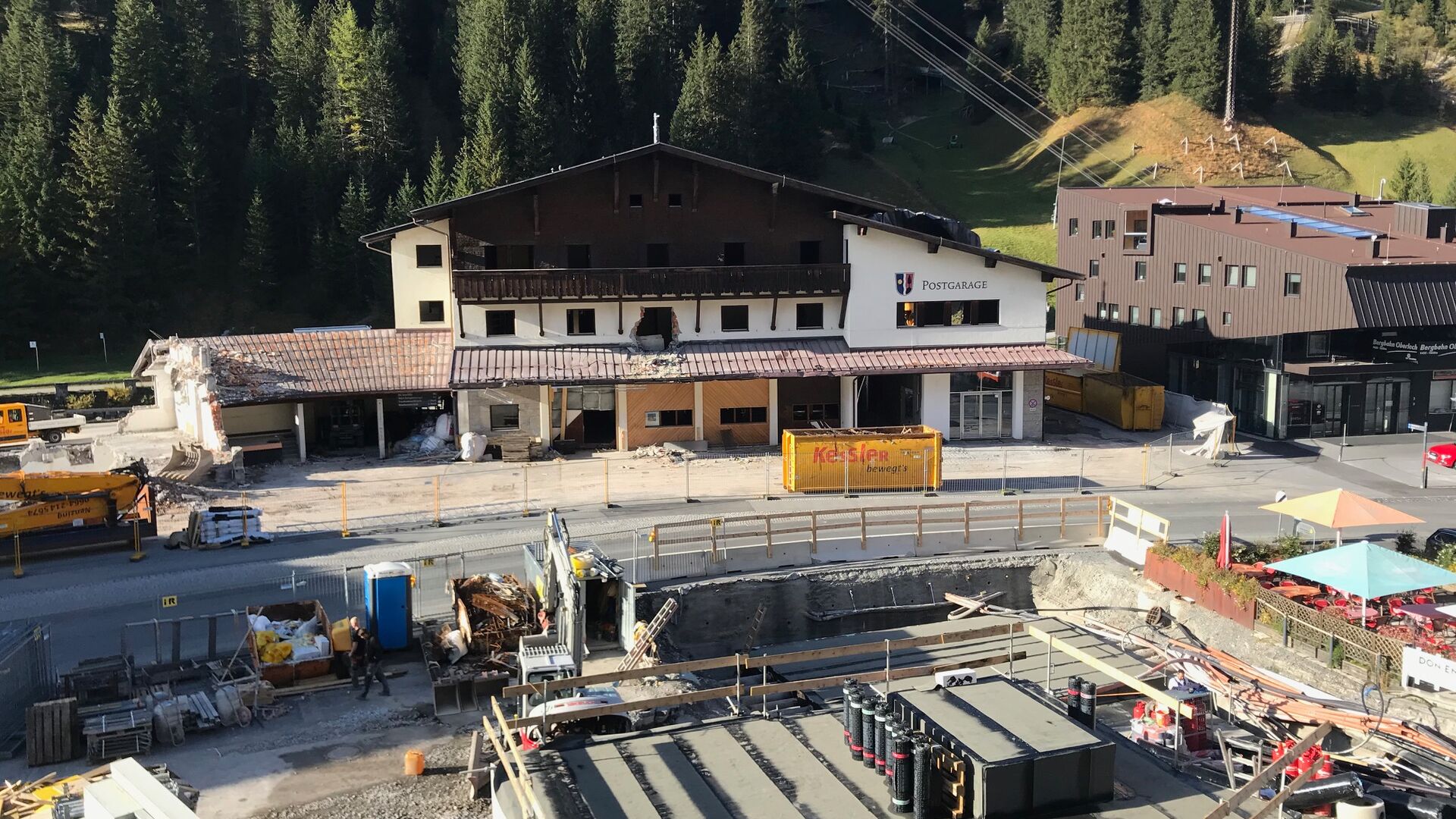 Relocating the telephone exchange with cable construction work and Anger bypass road
Then, the telephone exchange was moved to the 196 building as planned. A temporary bypass was set up to provide access to the Anger district during the tunnel construction phase in summer 2019. This will be dismantled in the next few weeks.