Andreas Mathis
Ski racer from Lech am Arlberg
Andreas Mathis
The 24-year-old from Lech strapped on his skis for the first time at the age of 2.5. Even early on, Andi preferred the ski slopes to kindergarten. During his time at the Schruns secondary school for skiing, Andreas was accepted into the Vorarlberg Ski Club's (VSV) student squad. Amongst his peers, he soon proved to be a promising up-and-coming young talent. He then moved to Stams to attend the ski high school, where he soon became a member of the VSV youth squad. In addition to his skiing career, Andi is currently studying business administration at the MCI in Innsbruck by means of a distance learning course.
What does Andi love most about racing? Thrills, pure adrenalin (especially in the downhill event), overcoming personal obstacles and measuring himself against others! His greatest successes so far are a victory at the FIS Super-G in St. Anton am Arlberg, 3 additional podium places and numerous top 5/10 placings. In the European Cup race, the young skier from Lech has already participated in the "Streif" downhill race in Kitzbühel twice. His goals for the 2020/21 season are to establish himself in the European Cup and to potentially become a member of the Ski Austria (ÖSV) national squad.
In his free time, Andreas likes to go backcountry skiing. He enjoys recharging his batteries in the unspoiled nature and the vastness of the Lech Zürs' snowy paradise. He is passionate about both mogul pistes and powder snow and also enjoys telemark skiing with his father, who taught him this special ski technique.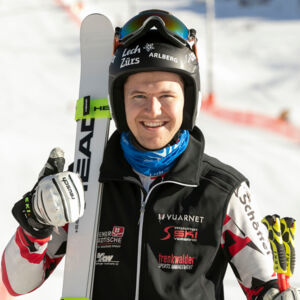 "There is no greater honour for a young athlete than to be supported by his or her home town. It's fun, gives one a boost, and it's truly motivating to get support from your "friends." Lech, the cradle of Alpine skiing, is ideal for freeriding or racing. To make sure it stays that way, up-and-coming young talents are dependent on the support of sponsors such as Lech Zürs. "