SKOLKA
Shifting the concert to Friday, 27.08.2021
Fr 27/8/2021 -7 pm, Indoor Sport.park.lech
Shifting the concert of Skolka to Friday, 27.8. at 19.00 - the band will play on the same evening as LaBrassBanda, who will perform afterwards.
For organizational reasons, the concert of Skolka was combined with that of LaBrassBanda on 27.8. Therefore there are now two top acts on one evening!
All Skolka tickets are valid for August 27. The following concert of LaBrassBanda is included. If you can't make the date, the ticket price will be refunded. Return via Ö-Ticket: Either at the VVK point where they were purchased or, in the case of online tickets, by e-mail to customer.care@oeticket.com (please quote the order number).
All tickets for LaBrassBanda are now additionally and without surcharge valid for Skolka on Friday evening.
Festival passes remain valid for both concerts on 27.8. They do not need to be exchanged. The difference will be refunded at the box office.
Combining polka, ska and indie pop rock
These eight musical free spirits from the Weinviertel area of Austria come up with songs that combine ska, reggae, polka, indie poprock and a dash of Balkan sounds. When this beguiling, musically diverse mix heats up, the band's spark ignites the audience. The positive note of their songs sung in Weinviertel dialect and the authenticity of their performances is no less infectious. In addition to television appearances on the Servus TV network on "Pixner'sBackstage" and the ORF network, this young band from Upper Austria has also taken stage at festivals such as the Donauinselfest, Nova Rock or the 'Woodstock der Blasmusik' (Woodstock of brass music). As the opening actfor Seiler & Speer, Wanda, Russkajaor Clara Luzia, they have travelled on tour with numerous well-known musiciansfrom the local scene.
Judith Frank (vocals), Thomas Rieder (guitar, vocals), Raffael Schimpf (bass), Gerald Schwent(drums), Christoph Schodl(trombone, vocals), Roman Leisser(trombone), Christoph Nadler (trumpet), Bernd Treimer(trumpet)
Tickets and festival passes available at Ö-Ticket.
Discounts: students, military personnel, apprentices, people with disabilities (from 60% disability).
Tickets for the concerts on the festival stages are available at all Ö-Ticket sales offices and at www.oeticket.com.

Evening box office from 5.30 p.m.until 6.30 p.m. on the day of the event on site.

Free wheelchair seats can be booked by mail at info@lechzuers.com, accompanying persons please book regular VVK ticket in the appropriate category.
The event will take place in all weather conditions.
Admission under the Corona rules for events valid at the time of the concerts. Please inform yourself again about the current regulations shortly before the visit.
About the Höhenrausch program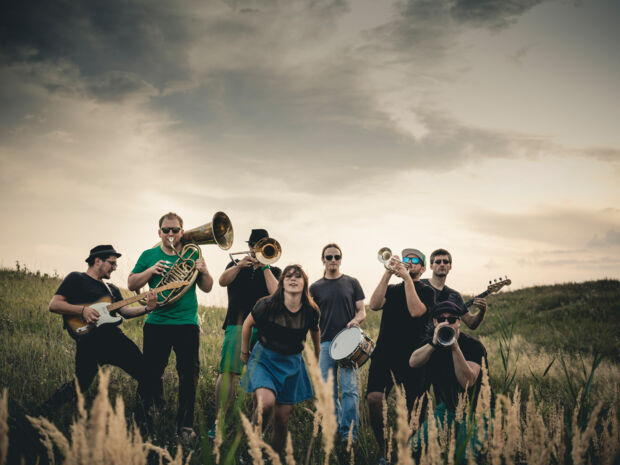 Skolka