Fri 27 Aug 2021 - 7 pm, Indoor Sport.park.lech
Shifting the concert of Skolka to Friday, 27.8. at 19.00 - the band will play on the same evening as LaBrassBanda, who will perform afterwards.
For organizational reasons, the concert of Skolka was combined with that of LaBrassBanda on 27.8. Therefore there are now two top acts on one evening!
All Skolka tickets are valid for August 27. The following concert of LaBrassBanda is included. If you can't make the date, the ticket price will be refunded. Return via Ö-Ticket: Either at the VVK point where they were purchased or, in the case of online tickets, by e-mail to customer.care@oeticket.com (please quote the order number).
All tickets for LaBrassBanda are now additionally and without surcharge valid for Skolka on Friday evening.
Festival passes remain valid for both concerts on 27.8. They do not need to be exchanged. The difference will be refunded at the box office.
Bavaria's most successful brass combines brass band techniques and Alpine-foothill reggae stylings
LaBrassBanda wear traditional lederhosen and yet somehow remain refreshingly unconventional. With their mix of ska-punk, reggae, techno and brass, the band rocks across the country. Though LaBrassBanda have their roots in Upper Bavaria, they have actually been on the road all over the world for many years with a sound that defies genre boundaries. ForLaBrassBanda, there truly are neither national borders nor stylistic boundaries, and such limitations are certainly not in their minds. During their tour through Bavaria's most traditional beer gardens after the release of their album "Danzn, in 2020, the LaBrassBanda troupe headed by Stefan Dettlproved that live music and an exuberant atmosphere are still possible when the necessary hygiene, distance and decency rules are observed.
"'Danzn' simply picks up where the last album left off. Brass techno, reggae from the foothills of the Alps, tuba disco, Bavarian lyrics, and music that combines fun and thoughtful lyrics." (Süddeutsche Zeitung)
Stefan Dettl (trumpet, vocals), Stefan Huber (tuba) Manuel Winbeck (trombone, vocals), Manuel da Coll (drums, vocals), Jörg Hartl (trumpet), Korbinian Weber (trumpet) Fabian Jungreithmayr (bass)
Tickets available at Ö-Ticket.
Discounts: students, military personnel, apprentices, people with disabilities (from 60% disability).
Tickets for the concerts on the festival stages are available at all Ö-Ticket sales offices and at www.oeticket.com.

Evening box office from 5.30 p.m. until 6.30 p.m. on the day of the event on site.

Free wheelchair seats can be booked by mail at info@lechzuers.com, accompanying persons please book regular VVK ticket in the appropriate category.
The event will take place in all weather conditions.
Admission under the Corona rules for events valid at the time of the concerts. Please inform yourself again about the current regulations shortly before the visit.
About the Höhenrausch program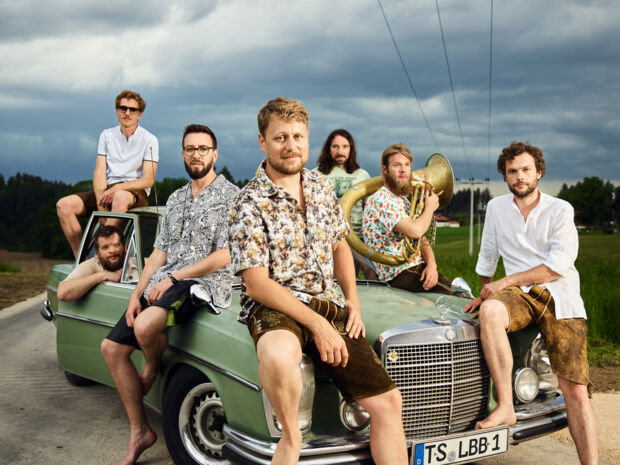 LaBrassBanda