Fri 30/7/2021 -7 pm, Indoor, sport.park.lech
The very finest 'handcrafted' music from the Alps
This extraordinary music project from South Tyrol by multi-instrumentalist, composer and producer Herbert Pixner is currently one of the hottest musical acts in the "new & progressive folk music" genre. Their mix of euphoria, energy, tension and plenty of free improvisation electrifies audiences. The band weaves a diverse musical tapestry with plenty of space for gentle melancholy as well as unstoppable outbursts of musical flights of fancy.
It's not possible to attribute the style to any region in particular, not that it would explain the power of their performances anyway.
With their unconventional band line-up, these exceptional musicians build musical bridges that connect their remote home regions. With playful-lascivious gentleness, compelling rock and blues riffs, brilliant technique and ecstatic playfulness, they have been delighting an ever-growing fan base for years.
"This is Alpine world music free from cultural arbitrariness at peak musicality. According to the Abendzeitung München: "The band embodies a thirst for freedom, a romantic storm, wildness and, above all, irrepressible fun."
Herbert Pixner (diatonic harmonica, clarinet, saxophone, trumpet, percussion), Manuel Randi (flamenco guitar, electric guitar, gipsy guitar), Heidi Pixner (harp), Werner Unterlercher (double bass)
The concert is already SOLD OUT!!!
Tickets and festival passes available at Ö-Ticket.
2-day pass (30. and 31.7.2021) at Ö-Ticket.
Discounts: students, military personnel, apprentices, people with disabilities.
Tickets for the concerts on the festival stages are available at all Ö-Ticket sales offices and at www.oeticket.com.

Evening box office until 6.30 p.m. on the day of the event at the Lech Zürs Tourist Office.

Wheelchair users please contact info@lechzuers.com.
The event will take place in all weather conditions.
Admission under the Corona rules for events valid at the time of the concerts. Please inform yourself again about the current regulations shortly before the visit.
About the Höhenrausch program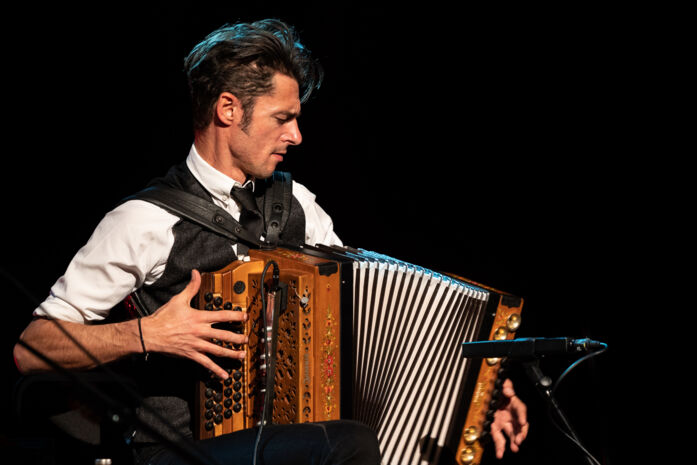 Herbert Pixner