Complete route overview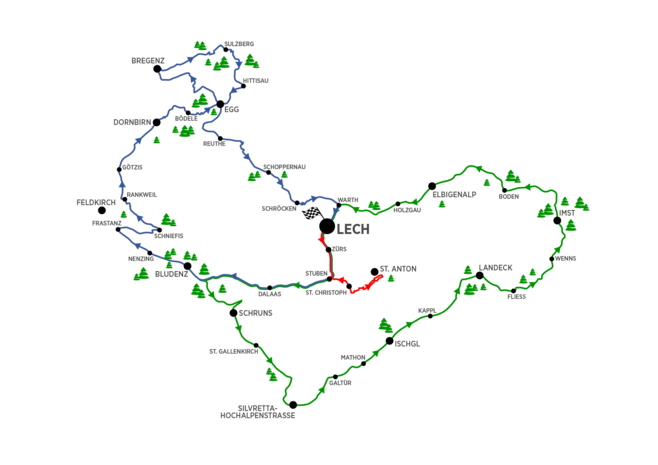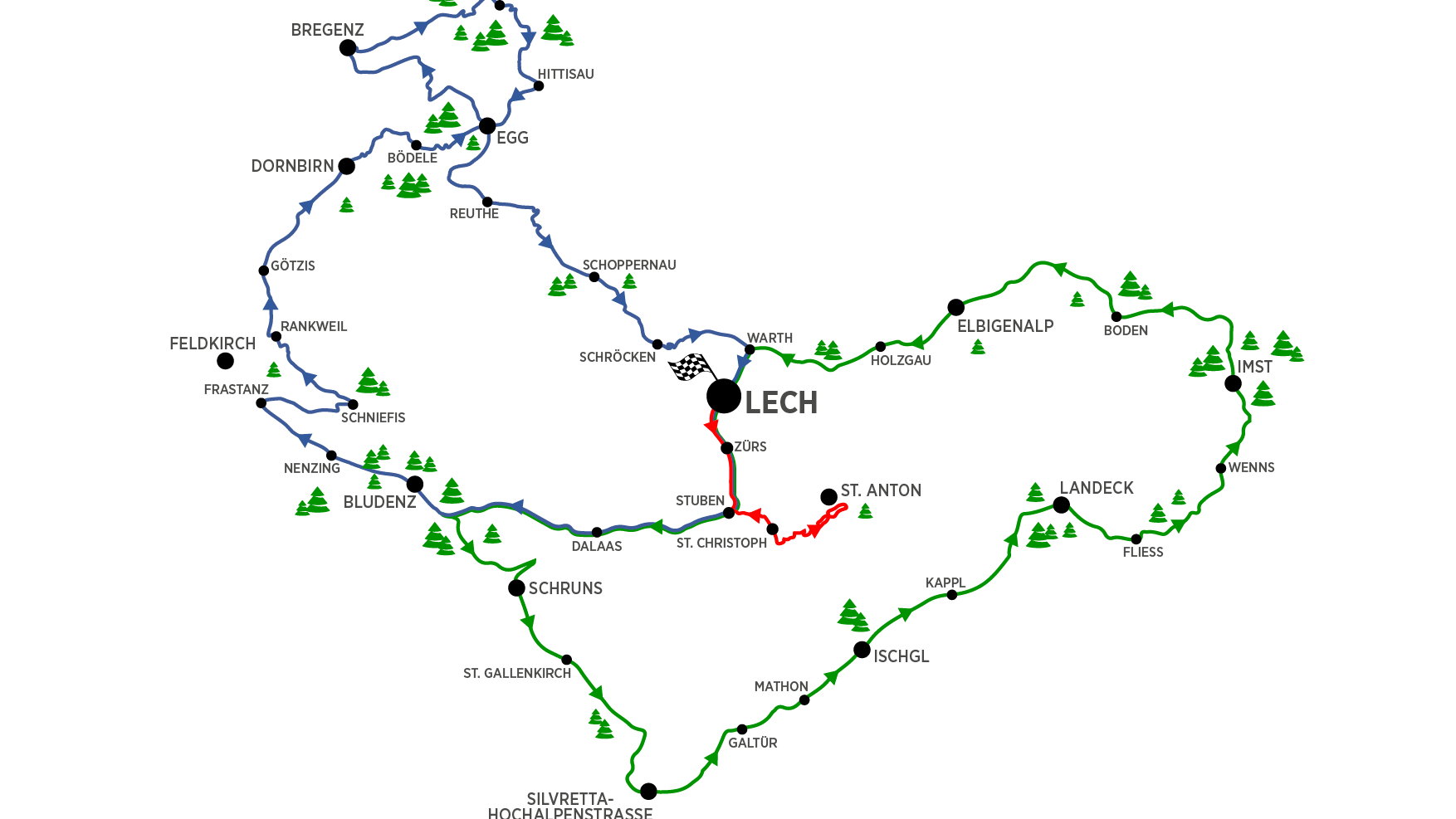 The St. Anton Prologue – Thursday, 24 June 2021
Last year the prologue was a new addition to the programme and the historic Arlberg road section to St. Anton via St. Christoph proved to be popular. During the prologue, the municipality of St. Anton will therefore welcome our convoy once again. Along this short high-Alpine route, participants can warm up for the coming days, adjust their measuring instruments and enjoy the beautiful mountain scenery. Back in Lech, participants will enjoy the traditional, cosy gathering at the Rud-Alpe inn in the evening before things "really" get going on Friday.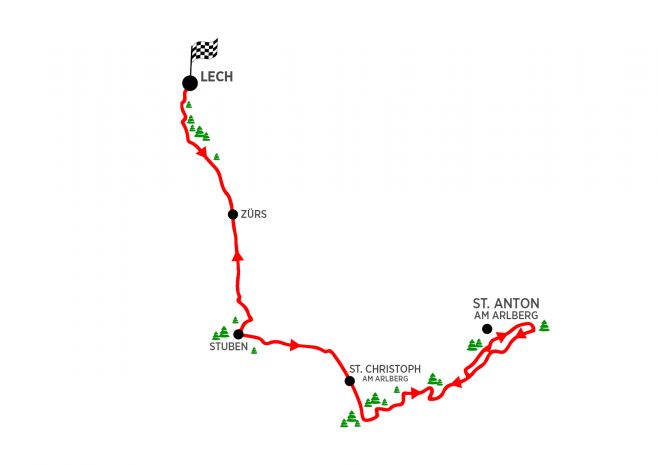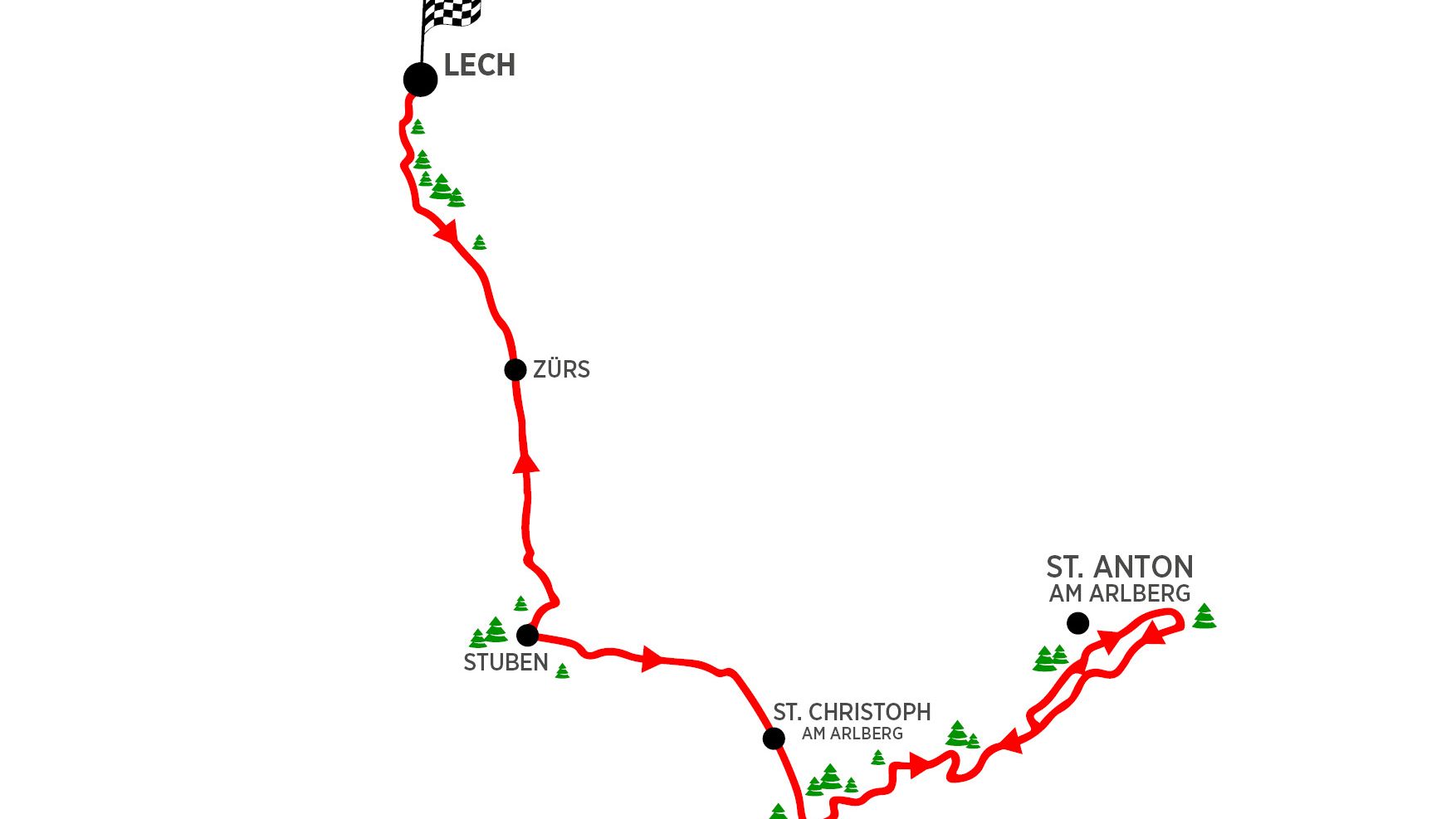 Silvretta circuit - Friday, 25 June 2021
The route first heads over the Flexen Pass down to Stuben. With the backdrop of picturesque mountain scenery, the route continues via Klösterle and Dalaas to St. Leonhard. From there, the route leads participants to the Montafon Alpine valley, which extends 39 kilometres through a magnificent landscape. Via the idyllic mountain villages of Vandans, Schruns, St. Gallenkirch, Gaschurn and Partenen, the route gradually ascends to the Bielerhöhe Pass via the Silvretta Hochalpenstraße High Alpine Road at a gradient of up to 12% with 32 hairpin turns. After passing the Silvretta reservoir, we will descend to Galtür and Ischgl, where we will stop for lunch. With renewed vigour, we will then drive along the Trisanna river out of the Paznauntal valley. On our way towards Imst, we will pass by beautiful Alpine villages, the "gateway to the south" and the town of Landeck. From there, the route traditionally leads to Lech via the Hahntennjoch Pass through the Lechtal valley. Arriving at the finish, the Arlberg Classic Rally Party will already be in full swing at Rüfiplatz square. Participants are free to spend the evening as they wish.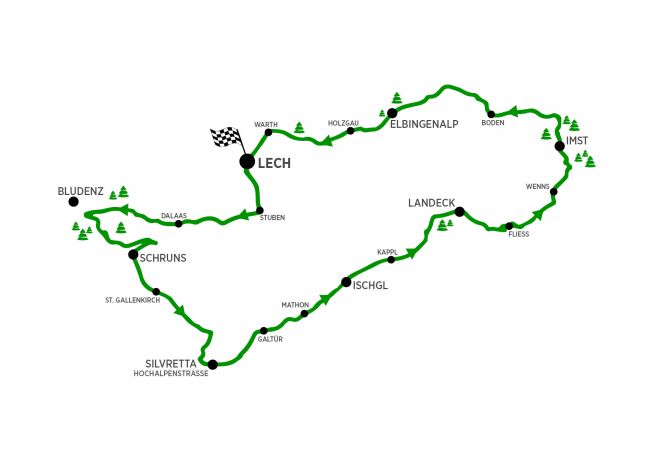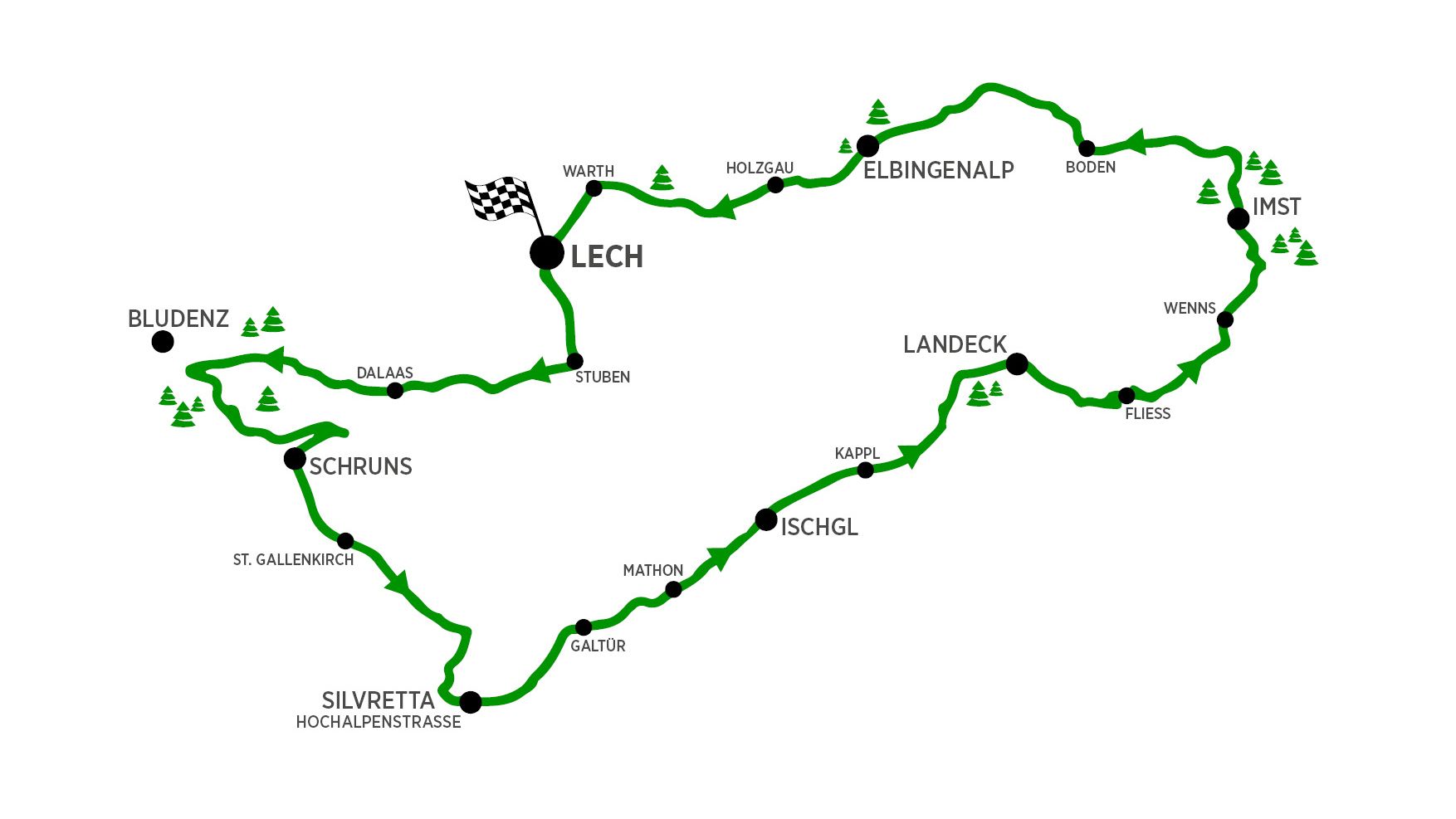 Off to Lake Constance - Saturday, 26 June 2021
We will once again drive to Stuben via the Flexen Pass, then to Bludesch via Klösterle, Dalaas and Bludenz. Before stopping for refreshments at our partner BMW Unterberger in Nenzing, participants must traditionally complete a challenging special stage at the Spedition Vögel transport company. After enjoying some small refreshments, we will continue through Vorarlberg's scenic countryside. Via Frastanz and Satteins, we will drive through Rankweil and into the Rheintal valley. From here, the route leads back to the to the state capital of Bregenz and up to the Gebhardsberg castle restaurant. If the weather is pleasant, participants will be rewarded with a fantastic view over Lake Constance during lunch. After lunch, the tour continues to Bregenz via Langen and then along the German border to Sulzberg and on to Hittisau. The indescribably beautiful and hilly landscape is a sight for sore eyes! Again and again, we will be treated to views of Lake Constance, countless Alpine pastures and green meadows with grazing cattle. Via Lingenau, Andelsbuch and Bezau, the route then becomes more Alpine in character again. In the afternoon, we will then enjoy the drive back to Lech over the Hochtannberg Pass via Warth.